Why choose The
Avdee Team?
A large majority of our transactions are repeat and referral business.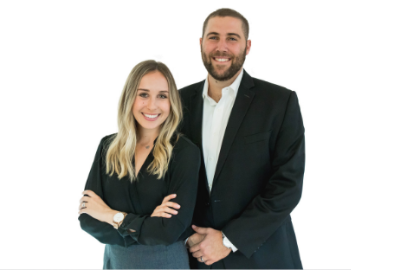 "Eric and Molly are caring, detail-oriented, passionate realtors who made our home buying process extremely enjoyable. They really listened to what we were looking for and helped us pick listings that best suited our wants and needs. They were VERY available, even the same day, to look at new listings. They are prompt and attentive to detail. They were completely involved in all steps of the process so we never felt alone. They also strongly advocated for us through contracts and negotiations. Their turn around time is unmatched and they make sacrifices in their personal life to do what is best for their clients. You will be hard pressed to find anyone more dedicated to what they do. Their heart is in their work and it comes across in every interaction with them. They also added heart-warming touches like housewarming gifts and closing day photos which means a lot to know they are celebrating with you. I would highly recommend the Avdee team! They're the best."
Ryan R.
"There are realtors, and there is Eric Avdee. I don't often write reviews – I see them as typically one sided, leaning heavily to one side or the other because of bias. But in this case, there is no leaning, only the truth. Eric went above and beyond in my search for investment property. I'm out of state and after flying in, getting picked up by him at the airport, and touring priorities twice, placed my trust in Eric that he'd find the perfect one. Fast forward a couple escrows later (we had a couple properties with hidden deferred maintenance), and we're in 2 beautiful properties in great neighborhoods. He managed the entire process start to finish and continues to help. He sourced them, walked them, negotiated them, dealt with my lender, managed the inspection, managed repairs, always answered the phone, and did it with a good attitude. I wish an Eric Avdee was in my hometown so I could have a local realtor as good as he his."
Jeff Z.
"Eric & Molly were an absolute pleasure to work with. My boyfriend, whom is a realtor in Las Vegas, helped me find them by looking through their reviews and comparing them to other agents. They crushed everyone in comparison. They were both extremely available by call or text throughout the entire process and continue to be there even weeks after we have closed. We've come across a lot of realtors in our life and great communication is something most lack. We appreciate everything they did and continue to do for us. When it came to negotiating terms and helping us get what we wanted, Eric & Molly went above and beyond. They helped us find exactly what we were looking for and we are extremely happy with our Phoenix home 🙂 Lastly, they made the home-buying experience extremely fun and informative. We didn't know anything about Phoenix prior to meeting them and they filled us in on everything we needed to know. They also showed us great restaurants and bars! Thanks Eric & Molly! We'll definitely send more business your way!"
Kari K.
"We came to Molly and Eric as first time home buyers not knowing if we would be able to buy a home and much less in the time frame we had. Molly and Eric exceeded all of home buying expectations and found us our home! They helped us find our home in a short period of time and made the process easier than we could have imagined. They helped us navigate through the whole first time home buying process available, flexible, and are both so knowledgeable of the areas we searched. I would recommend them to anyone buying or selling their home in a heartbeat! I am seeing the home buying process come to an end we had so much fun working with Molly and Eric!"
Amy P.
"When we met Molly and Eric, we were first time home buyers with no idea of what to expect from the experience. Immediately, we knew we had found the right team. We gave them an idea of the type of houses and neighborhoods we liked, and they gave us recommendations that same day. A week later, we found our dream home and our offer was accepted! In addition to being genuinely good people, Molly and Eric were always available, incredibly responsive to all our questions, and very patient and accommodating. From the initial meeting all the way through to the closing signing, Molly and Eric gave us the knowledge and support we needed to be comfortable and our first home purchase. We cannot recommend them enough!"
Emily H.
"Choosing the Avdee Team to sell our house was a such a great decision. We had a short window to sell our home in Laveen because we were in a contingency offer to by another home out-of-state. We reached out to Molly & Eric about the need to sell our home quickly and they went right to work for us. They got our house sold in roughly 30 days whereas our previous realtor couldn't get in done in 6 months. Their knowledge and professionalism is the main thing that made the process so stress-free, even with us living out of state. I would highly recommend the Avdee Team if you want to sell your home quickly and at your desired price. Thanks Molly & Eric!"
Isley F.
"I came into the house buying clueless. But I am glad I landed in the hands of the Avdee Team at Keller Williams. Eric is very good about keeping you updated on new listings and quick at helping you place bids. Every time I called him he picked up if not he would call me back no later than 5 minutes. I couldn't be happier with my home and the Avdee Team for guiding me and teaching me on the home buying process. I would recommend Eric to anybody in the market for a home he is great! Thank you Avdee Team!"
Hiram F.
"Superb knowledge and service! Eric and Molly sold our home and during every step of the process, they were in contact with me and everyday made us feel like we were their ONLY clients. I never had to wait to receive a response assuring me they were ALWAYS available to answer any questions and reassuring us that everything was moving in the right direction. They were a delight to work with and I now consider them friends! I would recommend this team to everyone looking to buy or sell a home!"
Wendy and Alex Dergal
"Eric and Molly were amazing to work with! This was our first time selling and buying at the same time and The Avdee Team made this such a smooth transition for us. They were always available to answer any questions that we had and took the time to ensure we understood every step of the process. Eric and Molly make such a great team and really compliment each other's strengths. We look forward to recommending The Avdee Team to friends and family. Thank you for all your help!"
Bailey M.
"Honestly the perfect team. Both of them knew their stuff and are very responsive, even months after. I'm a tax accountant and started looking in March ?? I told them what I was looking for and they handled the rest. Highly recommend!"
David W.
"I recently purchased my first home and was thoroughly impressed with the excellent service The Avdee Team provided. Eric and Molly were always available to look at homes, give their advice and answer the many questions I had, They made the entire home buying process simple and enjoyable. I highly recommend both Eric and Molly to anyone in the real estate market."
Eric S.
"Mega kudos to the Avdee team! As a first time buyer, Eric's impeccable knowledge of the industry and helpfulness has made the buying experience swimmingly and fun! I am thoroughly pleased with the process and am looking forward to my next purchase facilitated by the Avdee team. Thanks Eric for helping me into my first home!!"
Grant W.
"I would highly recommend Eric and Zach! We live out of state and had a couple of properties in Arizona that we wanted to sell. We thought it would have been a big hassle and a burden, however, the process was so seamless and unbelievably smooth. The communication from these two during the transactions was just simply awesome! The Avdee Team, had our interest a priority at all times. Problems and situations that could have become issues, were handled with urgency and professionalism. We have never encountered a real-estate transaction that was done with such ease!! Thanks again Eric and Zach! Wishing you both all the best!"
G& B Hekmatnia
"My daughter was looking for a townhome as her first house. Once she called Eric and Zach her headaches were over. She found a place that had a lot of activity and we were worried that we would move too slow and get outbid by someone else. Eric jumped into the process with his spirit and personality and made it an almost enjoyable process. Having done this several times ourselves, I know how tough it can be. Thanks to Eric and Zach, we nailed it the first time, and made it happen. Eric also had great advice for the remodel. I would absolutely use the Avdee team again!"
Allie, Vera and Guido Russo
"Eric did an awesome job at showing homes! He was quick to get us appointments for showings and was readily available every step of the way. He's very honest, open-minded, easy to communicate with and didn't push us to purchase a home we weren't comfortable with. As first time homebuyers, we started with no knowledge of the process and Eric went above and beyond to help us underserved everything! I highly recommend The Avdee Team at Keller Williams! It's a great company with great people!"
Vanessa H.
"We loved working with Eric and Zach! Eric got married and went on a honeymoon during our home buying process, and he was still 'present' the entire time. They both did an excellent job at making this a fast and easy process."
Melissa W.
"Eric and Zach do an amazing job of taking care of their clients. They truly put the clients needs first!"
Cady C.
"Had a great experience looking for a home with Eric! He listened for exactly what we were looking for, and made the process easy and stress-free!"
Sarah J.
"He's very honest, open-minded, easy to communicate with and didn't push us to purchase a home we weren't comfortable with."
Vanessa H.
"I cannot recommend Eric and his team highly enough! They worked with us to sell our house simultaneously with closing on a new one! We were very concerned that everything would work out because of the complexity of the transaction but it could not have gone smoother thanks to Eric! We definitely will work with them again for any future real estate transaction!"
Mario and Jess V.
"Eric got married and went on a honeymoon during our home buying process, and he was still 'present' the entire time."
Melissa W.
"Every time I called him he picked up if not he would call me back no later than 5 minutes."
Hiram H.
"It could not have gone smoother thanks to Eric!"
Mario and Jess V.